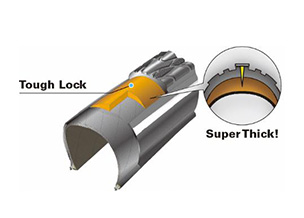 TourGuardPlus
The toughest urban/city tire.
About
The Tourguard Plus is a super reliable urban or touring tire. It sports a bead-to-bead nylon puncture protection breaker for extra puncture resistance. Additionally, a 5mm layer of super tough rubber is laid over the casing beneath the tread for even great puncture resistance.
Offered with or without reflective sidewalls for extra nighttime cycling safety. Excellent wet weather tread.
Detail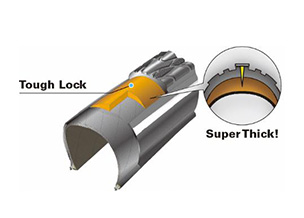 | | | | | | | | |
| --- | --- | --- | --- | --- | --- | --- | --- |
| ZW725-TRGP-BRE | 700×25c | 25-622 | Black | Black + Reflective tape | 620 | 620-755 | 90-110 |
| ZW728-TRGP-BRE | 700×28c | 28-622 | Black | Black + Reflective tape | 690 | 550-685 | 80-100 |
| ZW732-TRGP-BRE | 700×32c | 32-622 | Black | Black + Reflective tape | 835 | 345-515 | 50-75 |
| ZW735-TRGP-BRE | 700×35c | 35-622 | Black | Black + Reflective tape | 895 | 345-515 | 50-75 |
| ZW738-TRGP-BRE | 700×38c | 38-622 | Black | Black + Reflective tape | 940 | 345-515 | 50-75 |
| ZW742-TRGP-BRE | 700×42c | 42-622 | Black | Black + Reflective tape | 1.080 | 345-515 | 50-75 |
| ZW747-TRGP-BRE | 700×47C | 47-622 | Black | Black + Reflective tape | TBA | 300-500 | 44-73 |
| ZH201-TRGP-BRE | 20×1.75 | 44-406 | Black | Black + Reflective tape | 720 | 280-590 | 40-85 |
| ZH265-TRGP-BRE | 26×1.50 | 38-559 | Black | Black + Reflective tape | 875 | 280-590 | 40-85 |
| ZH261-TRGP-BRE | 26×1.75 | 44-559 | Black | Black + Reflective tape | 990 | 250-450 | 35-65 |
| ZH2620-TRGP-BRE | 26×2.00 | 48-559 | Black | Black + Reflective tape | 1.080 | 250-450 | 35-65 |
| ZW615-TRGP-BRE | 27.5×1.75 | 44-584 | Black | Black + Reflective tape | 1.020 | MAX 590 | MAX 85 |
| ZW2821-TRGP-BRE | 28×1 1/2 | 40-635 | Black | Black + Reflective tape | TBA | 250-400 | 35-60 |
Product code
Sidewall color
Black + Reflective tape
Recommended inflation pressure(kPa)
620-755
Recommended inflation pressure(PSI)
90-110
Sidewall color
Black + Reflective tape
Recommended inflation pressure(kPa)
550-685
Recommended inflation pressure(PSI)
80-100
Sidewall color
Black + Reflective tape
Recommended inflation pressure(kPa)
345-515
Recommended inflation pressure(PSI)
50-75
Sidewall color
Black + Reflective tape
Recommended inflation pressure(kPa)
345-515
Recommended inflation pressure(PSI)
50-75
Sidewall color
Black + Reflective tape
Recommended inflation pressure(kPa)
345-515
Recommended inflation pressure(PSI)
50-75
Sidewall color
Black + Reflective tape
Recommended inflation pressure(kPa)
345-515
Recommended inflation pressure(PSI)
50-75
ETRTO
Sidewall color
Black + Reflective tape
Recommended inflation pressure(kPa)
300-500
Recommended inflation pressure(PSI)
44-73
ETRTO
Sidewall color
Black + Reflective tape
Recommended inflation pressure(kPa)
280-590
Recommended inflation pressure(PSI)
40-85
Sidewall color
Black + Reflective tape
Recommended inflation pressure(kPa)
280-590
Recommended inflation pressure(PSI)
40-85
ETRTO
Sidewall color
Black + Reflective tape
Recommended inflation pressure(kPa)
250-450
Recommended inflation pressure(PSI)
35-65
ETRTO
Sidewall color
Black + Reflective tape
Recommended inflation pressure(kPa)
250-450
Recommended inflation pressure(PSI)
35-65
ETRTO
Sidewall color
Black + Reflective tape
Recommended inflation pressure(kPa)
MAX 590
Recommended inflation pressure(PSI)
MAX 85
ETRTO
Sidewall color
Black + Reflective tape
Recommended inflation pressure(kPa)
250-400
Recommended inflation pressure(PSI)
35-60
Back to Products